Everyday Dress and the Reconstruction of Early Modern Material Culture, 1550–1650
ERC Refashioning the Renaissance Conference




9–12 September 2021




Aalto University, Helsinki/Espoo, Finland



---
This international conference develops new perspectives in early modern dress and fashion history by asking two interrelated key questions: How did fashion beyond groups of wealthy elites develop in early modern Europe, and how can we gain access to the culture of lower social groups when so few garments survive, and sources about clothes are fragmentary? Combining archival, material, and pictorial evidence with experimental hands-on work and reconstruction, this conference explores the key agents of fashion change at the lower social levels in Early Modern Europe, and investigates how experimental work, reconstruction,  and material-based approaches can help us understand and access early modern dress and material culture.
REGISTRATION OPENS IN MAY 2021
Conference Programme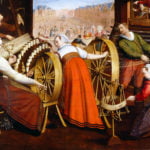 Speakers and respondents: John Styles, Pamela H. Smith, Sven Dupré, Evelyn Welch, Marta Ajmar, Amanda Wunder, Giorgio Riello, Luca Molà, Andrea Caracausi, Elizabeth Currie, Maria Hayward, Tessa Storey, Flora Dennis, Jenny Tiramani, Paula Hohti Erichsen, Sophie Pitman, Stefania Montemezzo, Anne-Kristine Sindvald Larsen, Piia Lempiäinen, Maarit Kalmakurki, Valerio Zanetti, Miriam Pugliese, and early career researchers.
Workshop: Silk Fibre Preparation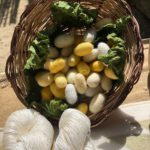 How was silk fibre prepared in the early modern period? This hands-on workshop, led by Miriam Pugliese from the Nido di Seta cooperative based in Calabria, will cover the whole process of extracting silk fibre, from discussing the cultivation of mulberry leaves, to caring for silkworms and selecting cocoons. During this workshop, participants will have the opportunity to experiment with the process of silk preparation, from extracting and reeling silk to making raw silk skeins. At the and of the workshop every participant will have their own little skein of silk.This workshop will be hands-on, so please wear clothes that can be easily laundered.
Due to the pandemic, the workshop will be limited to invited guests.
Refashioning the Renaissance Exhibition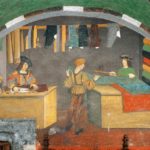 This exhibition brings together written sources, historic images, and contemporary reconstructions to answer the key question of the ERC-funded Refashioning the Renaissance project: How did artisans engage with fashion in the early modern period? The exhibition will be open for conference participants.
---
Practical information
Location
The conference will be organised in Espoo, Finland, at Aalto University. The conference venue is near the Aalto University metro station, a short ride from Helsinki centre. 
Conference venue:
Dipoli, Lumituuli
Otakaari 24, Espoo
Exhibition venue:
Dipoli Gallery
Otakaari 24, Espoo
Aalto University campus offers several lunch and dinner options.
Accommodation
We have reserved accommodation at Radisson Blu Hotel Espoo, a short walk from Dipoli. In addition, Hotel Helka in central Helsinki is offering a special deal for our conference visitors.
Radisson Blu Hotel Espoo
Otaranta 2, Espoo
reservations.finland@radissonblu.com 
+358 20 1234 700 
Room for 1 person, 120 €/night
Room for 2 persons, 140 €/night
Room price includes breakfast buffet and wifi
Reservation code RF2021
Hotel Helka
Pohjoinen Rautatiekatu 23, Helsinki
reservations@hotelhelka.com
+358 9 613 580
12% discount off the day rate with the reservation code RF2021
Other hotels in Helsinki centre:
Original Sokos Hotel Vaakuna, Helsinki
Klaus K Design Hotel, Helsinki