During our five-year project, we engaged with several major historical reconstruction projects in collaboration with craft experts, including The School of Historical Dress, skilled volunteer knitters and postgraduate students of Aalto University. The purpose of these reconstructions was to test how we can make invisible records visually and materially visible, and to explore how early modern fashion objects were made and worn.
More information on the reconstructions can be found in the Reconstruction research section.
Reconstructions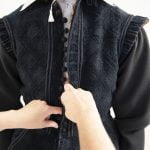 Seventeenth-century artisan male doublet
The reconstruction of an early modern doublet project combined hands-on experimentation, archival research and investigation of visual and material evidence in order to bring one of our artisan's outfits to 'life.' The imitation fashion piece is made of black stamped mock velvet and it was recorded in an inventory of a Florentine waterseller named Francesco Ristori who died in 1631.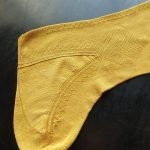 Early Modern knitted stockings 
This reconstruction focused on early modern techniques of knitting and the reconstruction of seventeenth century stockings. By combining scientific testing, close reading of surviving objects, extensive archival evidence from Italy and Scandinavia, and the expertise of 35 experienced volunteer knitters, we explored what early modern stockings originally looked and felt like, how these were knitted, and what tools and level of sophistication were needed to knit ordinary woollen stockings and luxury silk stockings.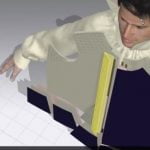 Digital Tailoring
This digital reconstruction project of seventeenth century male doublet combined material reconstruction with digital reconstruction in order to test how historians and makers can communicate their archival, visual, and material research findings in new ways. Using CLO-3D, this animationshows how doublet pattern pieces are cut out of cloth and stitched together to create an elegant silhouette, and how inner sculptural layers are placed within the garment. This digital animation, based on our material reconstruction, made by hand with as historically appropriate materials as possible, pushes the limits of the CLO-3D software by applying modern technology to historic materials, silhouettes, and bodies.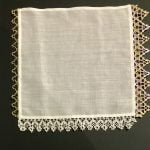 Early Modern Lace
This reconstruction investigated early modern techniques of lacemaking. The technique of lacemaking came into its own in the sixteenth century, and lace became one of the most fashionable decorations for clothing. This experiment involved the reconstruction of four different pieces of bobbin lace that were sewn to decorate the edges of a fine linen kerchief. Rather than a copy of an object from the past, it shows how lace patterns of increasing complexity and cost had distinctive visual effects.