Doublet Reconstruction
The doublet project combines our hands-on, archival, visual and material approaches in order to bring one artisan's outfit to life. This imaginative reconstruction of a black stamped mockado doublet, once owned by the Florentine waterseller Francesco Ristori, makes the lost fashions of early modern artisans visible and material.

Very few garments survive that represent and fully convey the fashionable achievements of renaissance artisans. In order to fill in this gap in the material record, the Refashioning project's capstone reconstruction takes three forms: experimental hands-on reconstructions which enable the Refashioning team to learn about the materials and skills needed to create a doublet at each step in the process from fibre to finished garment, a full-size material reconstruction of the doublet made by professional skilled craftspeople, and a digital reconstruction to reveal the construction and inner layers.
The material reconstruction of the doublet is based on rigorous archival and visual research, scientific testing and close object analysis, and skilled craftsmanship using natural and historically appropriate materials. The inspiration for this doublet was found as part of our archival research gathering over 30,000 records of artisan fashions from post-mortem inventories. We selected one entry, from the 1631 inventory of the Florentine Waterseller Francesco Ristori as our starting point. From there, we have been researching Ristori and his context, the role of watersellers in renaissance Italy, visual records that depict watersellers and other artisans wearing doublets, and doing scientific testing on surviving objects to reveal how similar fabrics and clothes were made. With the School of Historical Dress, we are working with skilled makers to create a full size reconstruction of the waterseller's doublet by hand-producing each material and process in as historically appropriate ways as possible. Expert makers are using natural materials and hands-on methods to spin the fibres, weave the fabrics, dye the fabrics, tailor the garments, and then dress a model to bring Ristori's doublet to life.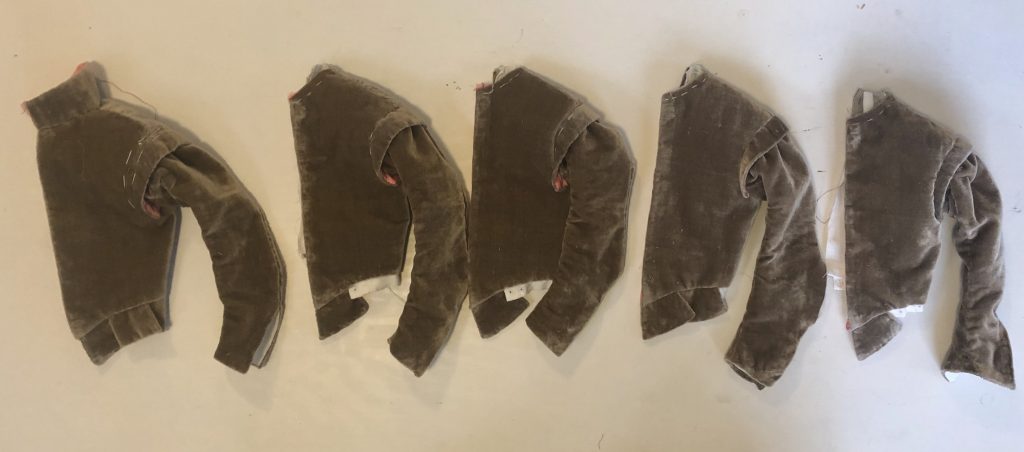 ---
Images:
Vignette of a water seller. Etching with engraving, 7.0 x 6.0 cm. The University of Chicago Library, Chicago.
Man's doublet, possibly Italian, c. 1550–60. Red satin lined in canvas, trimmed with handmade silk buttons. National Museum of Scotland, Edinburgh.
Doublet workshop, 2019.