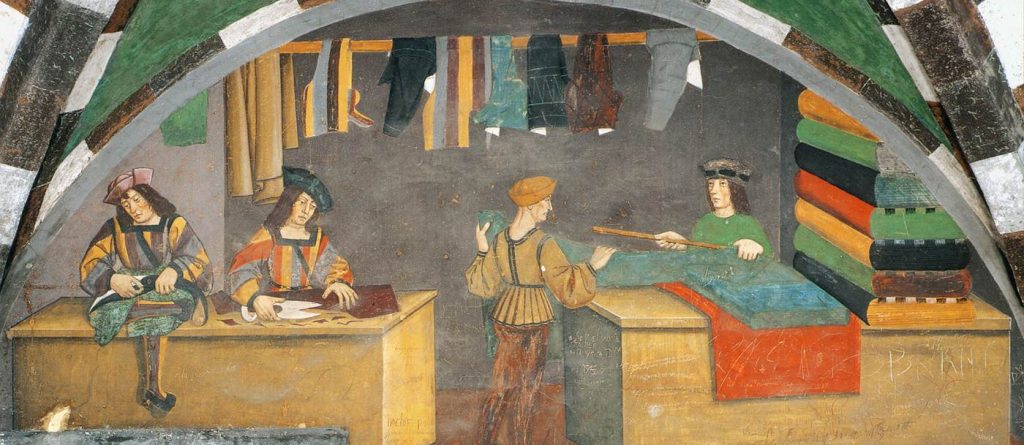 7 January — 8 February 2019
Väre FE Lobby, Otaniementie 14
---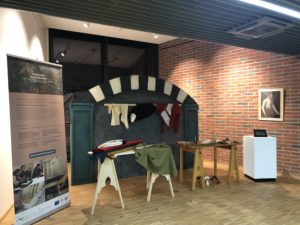 The "Tailor's workshop" exhibition, curated by Piia Lempiäinen, recreated a sixteenth-century tailor's workshop, modelled after early modern images, such as a fresco of drapers in Castello di Issogne, Italy, and introduced visitors to the tools and techniques used by early modern tailors. We worked with a talented scenographer Iina Karhunen to build the walls of the workshop, and co-operated with a living history group Iloinen Joutsen to decorate the workshop with tables and stools. Textile artisan Katri Hämäläinen made us clothes to set in the workshop.Visitors could engage with various tools and materials used by early modern tailors, that were laid on the two tables, and  touch and try finished garments.
Recreating this workshop helped us to communicate a vital material aspect of our research; how does it feel to us these tools, such a sew with a bronze or iron needle instead of industrially made high carbon steel needle. It also helped us to discuss how historical and modern techniques differ and correlate. For example, laser cutting fabric can be seen as a modern take of the renaissance technique of slashing fabric.
As a 'stage' for our project, the exhibition allowed us to talk about our project and activities, and disseminate information about 16th-century fashion, clothing and tailoring practices. As part of the exhibition, we also organised a lunch talk event, where we invited people to talk about early modern fashion and tailoring practices with our researchers. Some came to visit Aalto specifically to take part of this event, and it was wonderful to see how many people were interested in our project, and how these centuries-old tools and techniques combined with modern research methods resonated with them.
Exhibition materials: