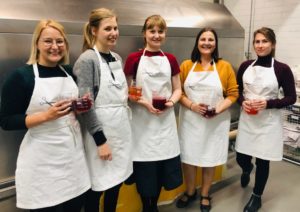 Our core team consists of a Principal Investigator, two Postdoctoral Researchers, Research Fellow, PhD Student, and a Project Coordinator. In addition, we collaborate with other researchers, and are supported by an Advisory Board.
Team
We are grateful for being able to co-operate with many scholars, expert makers and institutions
Jenny Tiramani, Melanie Braun, Pamela Smith, Maj Ringgaard, Jo Kirby, Natalia Ortega, Jenny Boulboullé, Art Proaño Gaibor, Krista Vajanto, Maarit Kalmakurki, , Elizabeth Currie, Cecilia Aneer, Andrea Caracausi, Timothy McCall, Maria Cristina Ganga, Federica Boldrini, Elena Kanagy-Loux.
Renaissance skin project, ARTECHNE project, Making and Knowing Project, Department of Historical and Geographic Sciences and the Ancient World of the University of Padua, Textile Studies Unit at Uppsala University, Nationalmuseet, Metropolitan Museum of Art's Textile Conservation department and Ratti Center, Museum of London, Museum of Copenhagen, Turku Cathedral Museum, Palazzo Mocenigo, Sinebrychoff Art Museum, Rijksmuseum, Fondazione Lisio, Tessitura Luigi Bevilacqua, Nido di Seta, School of Historical Dress, Trelleborgen Viking Museum.
We would like to thank
Taina Pierrier, Pasi Kainulainen (Mixtum), Heidi Pöydä, Jirina, Antti Kuparinen, Jodie Cox (WildSide), Iina Karhunen, Katri Hämäläinen, Swan River Craft, Dayoung Song.