The Fruit Seller, by Vincenzo Campi (1580)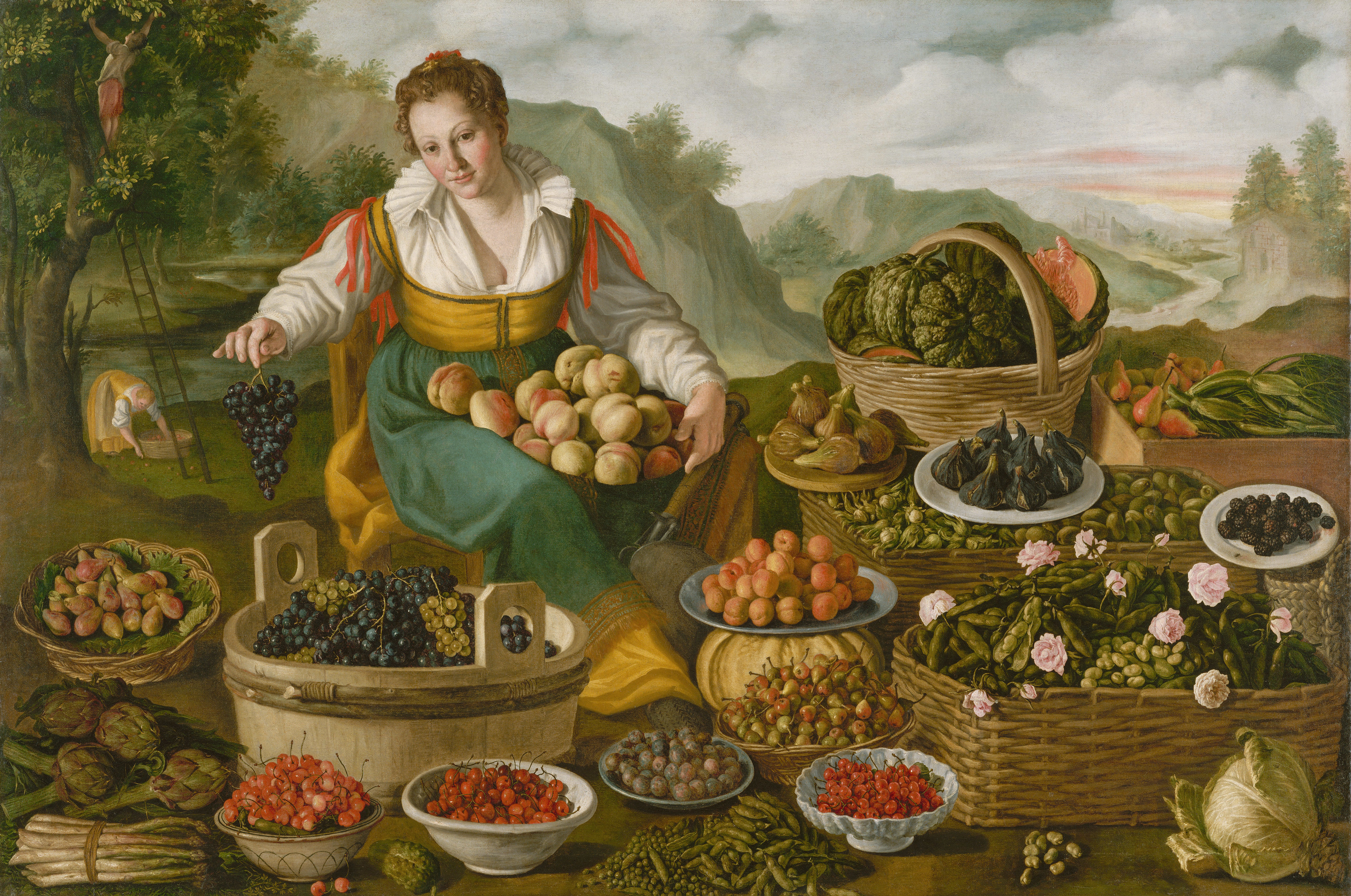 Our banner image on the front page of the website is The Fruit seller by Vincenzo Campi,  from 1580. The painting is kept at the collection of Pinacoteca di Brera, in Milan, and measures 143 x 213 cm. It depicts a young woman selling fruit, and it ties to the tradition of late sixteenth-century Italian genre paintings. These genre scenes afforded curious Renaissance gentlemen the possibility of observing how the lower orders lived, worked, and dressed, while still maintaining a distance from the subjects.
The painting offers an interesting look into the clothing of the fruit seller. She is dressed in a front-opening yellow gown with a green apron and a high-necked linen shirt. Her relatively basic clothes  are designed to provide maximum comfort and practicality during work. For example, although the upper part of the fruit-seller's dress seems to be tufted, the wrinkles across the bodice imply that there are no boning or corset. In addition, the upper part of the outfit includes large ribbons where the sleeves could be attached, but she is wearing the dress without sleeves. Emphasizing durability, comfort, and practicality rather than beauty, the represented clothing ties the wearer to her role as manual labourer. A closer look, however, reveals that the fruit seller's dress includes several details that respond to contemporary taste. For example, her linen shirt is decorated with lacy edging that matches both her ruff and sleeve cuffs according to the taste of the period, and her green apron includes a yellow embroidery pattern, perhaps made in imitation of gold embroidery.
These kinds of visual messages were well understood by contemporaries. Archival evidence from early modern Italy shows that artisans and shopkeepers often used a wide range of methods to update ordinary dress to conform to current fashions. It was not just simply a matter of fashion "trickling" down through the social layers, but popular groups created meanings, rules and practises of their own, and built their identities through self-fashioning.
However, there has been surprisingly little discussion on how non-élite members of society dressed in early modern Europe, and there is a demand for a rigorous interdisciplinary study of Renaissance fashion that investigates how fashion developed and evolved in dialogue, and across, social groups. Refashioning the Renaissance project draws visual, documentary and material evidence to shed light on popular taste, dissemination, transformation, and adaptation of fashion, of imitation and meaning, and of changing cultural attitudes to dress among popular groups. Campi's Fruit Seller reflects these ideas and attitudes, and is a fitting image for the project.
Source: 
Hohti, Paula: 'Dress, dissemination and change: Artisan 'Fashions' in Renaissance Italy', in E. Welch (ed.), Fashioning the Early Modern: Creativity and Innovation in Europe, 1500-1800 (Oxford University Press/Pasold, 2017), 143-165.